Hello,
I have a Hyper-V host with 2012 R2 on it and already added to Veeam as a host and it was working fine.
One day I found a VM backup job fail.
I tried to rescan the host and found the error 
Access Denied. (Exception from HRESULT: 0x80070005 (E_ACCESSDENIED))
I tried to edit the host and check the credentials and found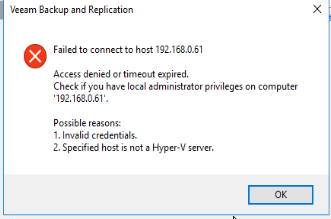 I removed the job and removed the host and tried to add it again but the same error in image above appears.
I don't know where the issue comes from. The credentials are the same didn't change 
Regards,
Muhammad