This topic is replaced by the V12 Upgrade Center: 
Doing something new! Here in the Veeam Community Hub I thought this would be a good place for a new piece of content that gives some practical information for the upgrade process for Veeam Backup & Replication V11.  We wanted to put this together here to give each of you an additional way to start the upgrade process! Watch this quick video below for an overview:
Now, let's get into the specific bits that you need to upgrade to V11! We may add sections or clarify things based on feedback, so please leave a comment below and maybe come back to the news section here for updates!
Pre-Installation Section
We recommend you review these key pieces of documentation:
Licensing:

You may need to obtain a license or ensure you have access to the licensing portal.
One of the best things about V11 is that the same universal license for V10 can be used for V11. This is explained on page 19 of the What's New document and brings great news:

"Version 11 uses the same license file format introduced back with v10. Such license files are no longer tied to a particular software version, allowing you to use your existing v10 license file for v11 so long as your maintenance contract is still active."
 
Note that if you do not have access to the licensing portal (including for your current license), such as if the person who used to do this is no longer in your organization, you can open a Licensing type of case:

 
Must-See Information
This section here has a lot of points that highlight some changes to existing capabilities, much of which are detailed with context in the What's New document. Here is a summary list.
Please note that quarterly GFS restore points are no longer available, make sure you see the What's New document, page 7, if you are using them.
Do you use Veeam Quick Migration often? Check out the SmartSwitch threshold notes on page 8 of the What's New document.
If you are using a Veeam Cloud Service Provider (VCSP) for some services; you may want to check with the provider to clear the upgrade on your end. Many VCSP providers will issue a communication specifically for it.
In the fall of 2020, Starter edition was removed so make sure the license is upgraded to Essentials.
Before you upgrade, I recommend you make sure the Configuration Backup is configured, has run successfully, you know where the configuration backup is stored and any encryption or credentials to access it. Additionally, be able to access it directly through SSH, file shares, etc.
Added 10-April: If you are coming from a previous version of Veeam Backup & Replication, see this upgrade path KB: KB2053: Veeam Backup & Replication Upgrade Paths  [Thank you @Mildur ]
Post-Publish Updates
This message was published initially on the GA Day, a few changes have been made since:
12-March 2022: An update to the below has been made with KB4245, please use this for post-GA updates.
28-September:  Today V11 was upgraded to V11a with Veeam KB 4215. This will officially close the V11 Upgrade Center and I'll put out another one for next major release. Read the V11A KB Here: KB4215: Release Information for Veeam Backup & Replication 11a
26-Feb: The Upgrade Guides were linked in above from Help Center.
26-Feb: I checked in with Tech Support for a case summary from the first 48 hours and there were a lot of questions on people wanting to go straight to the archive storages (Azure Archive, Glacier, etc.). That is done in the Scale-Out Backup Repository which would need a performance tier (regular disk) and capacity tier (object storage) set up. This quick start link will explain that process. However, an additional object storage repository type of archive will need to be added, see how the logic works for archive tier.  Also see related R&D Forum thread.
1-Mar: Have identified a discrepancy in the Edition Comparison and What's New regarding Instant Database Recovery, thank you @MicoolPaul. The final answer is Enterprise or higher, Edition Comparison being updated.
1-Mar: I received a common case update and want to draw everyone's attention to the Agent Management User Guide, generally speaking Agent Management is N-1 of what B&R will be generally available at. So, v3 Agents cannot be under management by V11 as the current version is v5. See the Protected Computers Discovery and Veeam Agent Deployment doc.
1-Mar: The Veeam R&D Forums has a top issues tracker.
2-Mar: Received clarification that PowerShell is in all editions, the editions comparison should be updated soon.
4-Mar: Received a common case update from support and there were questions around if Veeam provides a virtual appliance or automated deployment for the Hardened Linux Repository. We do not provide one, any Linux system will do as prescribed in the requirements for this capability. 
5-Mar: If you are a VCSP or an enterprise who installed the RTM build (the pre-GA build), the Day Zero update is ready. Note, this is intended only for environments where Veeam Backup & Replication 11 RTM (11.0.0.825) is installed (posted 7-March).
21-Mar: This one comes from me updating my home environment. In the 1-March update I highlighted the supportability of Agents with the upgrade to V11, an intuitive note is in the installation *if* you have Agents that will require to be upgraded post-V11 upgrade: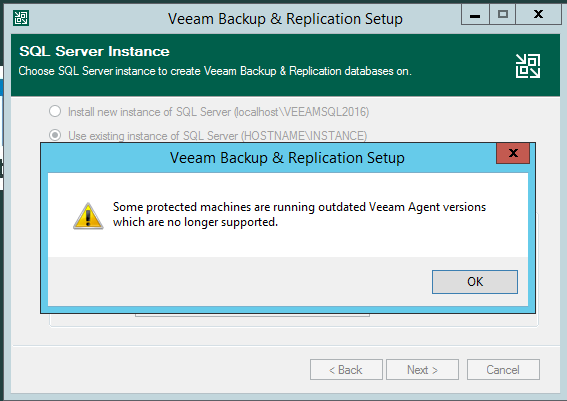 28-Mar: The cumulative patches KB 4126 was posted initially on 11-March and is since incorporated into the .ISO and after the upgrade, the build will be 11.0.0.837 P20210324. I made a video of the installation process if needed.

17-May: Since the late March update, KB 4126 has been updated with the fixes listed in this KB in the section "P20210507" and the build number after the update will be: 11.0.0.837 P20210507
1-June: Since the May update, KB 4126 has been updated to 11.0.0.837 P20210525, same KB link above.

14-May: I had a good observation and feedback from an organization who had deployed v10 with specific vSphere permissions and noticed on V11, the same permissions didn't work. Turns out there are updated vSphere permissions required with V11 in the Host-Configuration and Snapshot Management sections. See the v10 and V11 vSphere required permissions.
24-Sept: I just got notifications today of v11a completing it's QA cycle (also Veeam ONE, Agents and AHV also updating). Once I have all the documentation for that I'll provide one final update for this and we can close the v11 upgrade post-publish updates. 
See first post in this list from 28-September.
Upgrading an Installation to V11
This section is where you take the next steps about the practical steps and an example upgrade an existing v10 environment. Here are a few points to consider:
Before you do the upgrade, I recommend your Veeam Backup & Replication jobs are not running or due to run soon, replicas aren't failed over and the environment is generally in good shape for the upgrade.
I recommend downloading the Veeam Backup & Replication ISO file after you've read the key links above, and here is the download location.
While my environment proceeded without issue, we realize not all environments will behave the same. If you need help, you can open a case at the Customer Portal.