I'm using VBR Enterprise and I've an issue with a SQL Server database restore to a Hyper-V VM.  I am currently backing up the VM using guest application processing which is working fine.  It uses PowerShell Direct because the SQL VM is on a private VLAN, which cannot be accessed from the VBR server which is hosted in a different data centre. It can however access the hypervisors and all backups have been successful.  Frustratingly, I'm unable to restore using the same methodology in reverse.  Surely if I can backup successfully using PSDirect, I should be able to restore using the same method?  I asked Veeam Support and they sent me here. 😐
When I try a restore, I get an error saying VBR cannot access SQL… I can confirm that Named Pipes is enabled.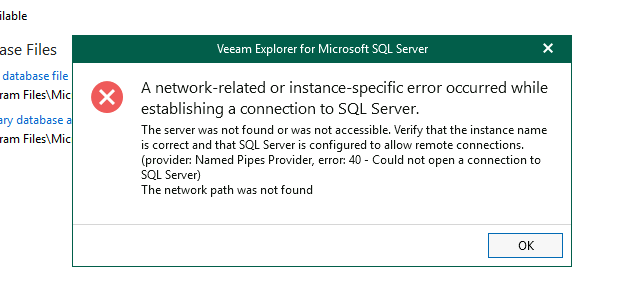 Has anyone else ever run into this issue and found a fix?  I really don't think it's acceptable that I've to ask for help on a community forum regarding an enterprise product that should work out-of-the-box, but here I am!