Veeam Backup & Replication supports and understands vSphere tags allowing the creation of Backup and Replication Jobs by selecting VMs to backup based on Tags.
Tags concept was introduced in vSphere 5.5 and basically it is a label you can assign to any object (VMs, storage and so on...) in the vSphere inventory. You can assign a tag to a specific category to better identify a VM type or simply the installed OS.
The use of Tags during Jobs configuration is pretty easy to configure. In the configuration wizard click Add button to add objects to backup. Click the tag icon to display VMs and Tags, select the item you want to include in the job then click Add.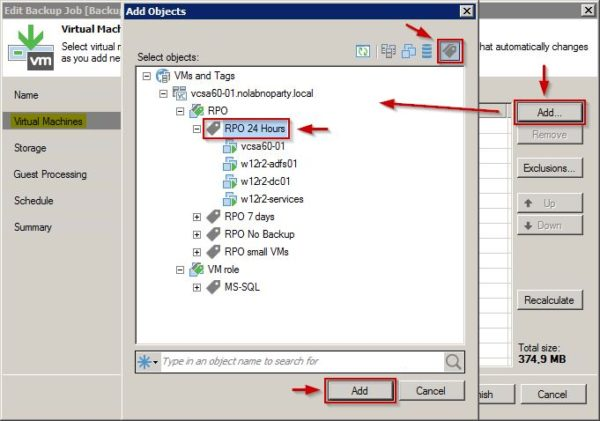 Using Tags you no longer need to edit a specific Backup or Replication Job to add or remove a VM. A simple click in the Tags panel of the particular VM in vSphere Client does the trick.
No Backup tag?... why you should use it? Well, the No Backup Tag can be used to specify which VMs are not included in any backup on purpose. In big environments operations are often delegated to different administrators and the use of No Backup tag can help to quickly figure out that a specific VM was intentionally excluded from any backup. VMs members of this group won't be associated to any backup job.
Current VBR v10 can process only one tag at time but version 11 will provide an improvement introducing the AND operator.