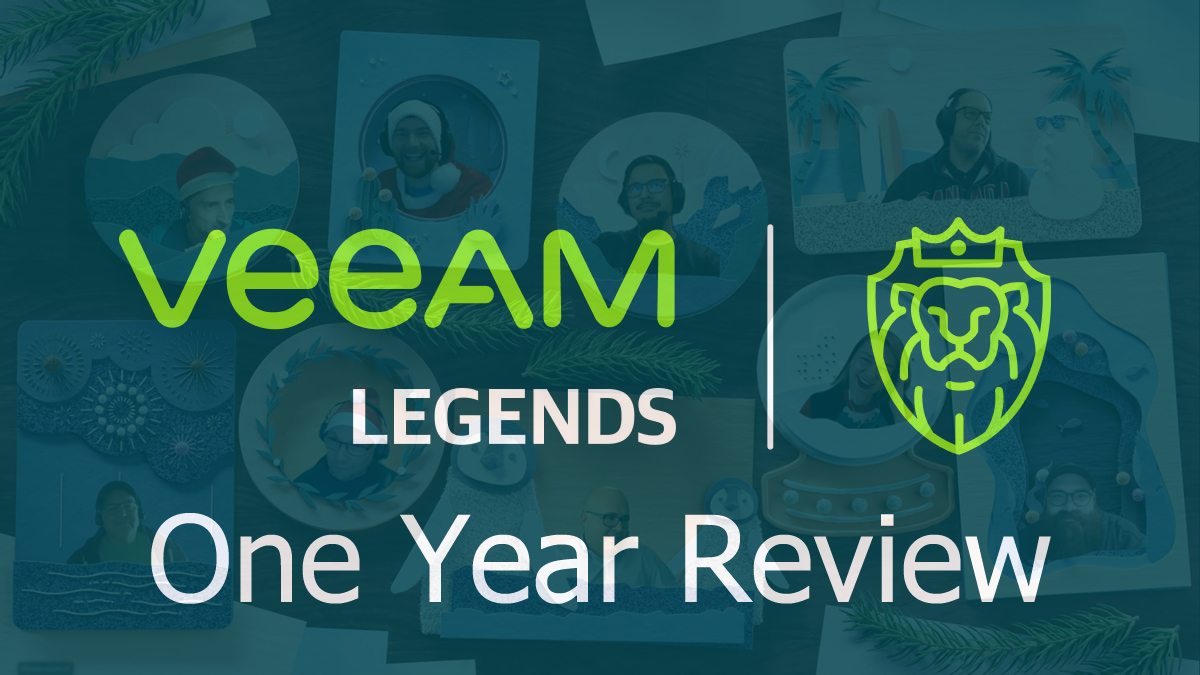 As the Veeam Legend 2022 intake is only a couple of months away, I wanted to share my experience and views on the Veeam Legend program, and help those considering it, whether it's right for them.
Today I'll give a brief overview of the Veeam Legend program in case you're not familiar and then I'll tell you how my first year in the program has been.
What is the Veeam Legend program?
If you don't know what the Veeam Legend program is, that's fine, it has only been going for a year now and has had two intakes of Legends. But if you're working in data protection or want to specialise within this field, it's a vendor endorsement program of increasing industry recognition.
The Veeam Legend program is an acknowledgement from Veeam of individuals that are active in the Veeam Community, whether on the Veeam Community Hub or the Veeam R&D forums. But what counts as "active"? Veeam are deliberately vague on criteria as there are so many ways to contribute. Some of the more common ways are:
Helping others in the forums by answering questions
Contributing to community discussions
Writing blog posts, this could be tutorials, reviews, thought leadership etc.
Sharing scripts that you've written
Providing feedback on product requests
Podcast/Vodcasts
Sharing videos you've produced of the above as well.
This is a non-exhaustive list of course and the main point is that you're involved! More information can be found here.
Now, onto my review!
Veeam Legends: Benefits Overview
As part of being a Veeam Legend, Veeam invest more than a fair amount of resources into your success. In addition to the usual vendor swag (which is awesome and you can see a separate post I've done on the swag here), Veeam have provided exclusive Veeam Legend & Vanguard training sessions with key members of the product management and product strategy teams, pre-launch briefings, access to the private Veeam Legends group, access to official VMCE/VMCA training courses and so much more, which I'll go into more detail below.
Perk: Involvement in Official Veeam Opportunities
One of the single greatest benefits from the Veeam Legend program is the level of opportunities to engage in public activities with Veeam as a subject matter expert. In the past year I've authored multiple blog posts on Veeam's official website as a guest author, provided quotes to official white papers, and spoken at Veeam Events such as VeeamON 2021 and on Veeam's Friday Tech Bites. None of those opportunities would've been possible without my membership in the Veeam Legend program. If you want to be involved in the conversations around data protection and helping to steer the industry, this is a great way to jump in!
Fun Fact: I actually appeared in a Live stream with Rick Vanover & Kseniya Zvereva about the Veeam Legend Program back in August 2021, check it out!
Bonus: Community Collaboration
As great as it is to be involved in all this external facing Veeam content, it's all about the community, and community involvement has been in no short supply! The Veeam Legends collectively produced the first release of the "Veeam Legends Pocketbook" (link here), a key achievement within the first six months of the program's initial intake! The Veeam Legends also have a catch-up call every two weeks, sharing insights, stories and having a good laugh, they've quickly begun to feel like an extended family.
The Veeam Legends are selected based out of their commitment to the community, so it should come as no surprise that those chosen want to give back to the community. Suggestions are welcomed by all for discussion and you can opt-in/out as you see fit per community project.
Perk: Sponsored Private Training Sessions and Exam Takes
Veeam have provided exclusive training sessions across various products, this has ranged from private webinars focused on a particular product or topic, to full VMCE/VMCA training courses coupled with a free exam voucher. If your organisation can't justify the expense of training or you can't afford to sponsor yourself, it's a great way to earn the training via your valued contributions, removing the financial barriers to get certification.
Perk: Exclusive Content
Now I can't talk about all the content due to Veeam's restrictions on some information, but I can talk to you about their content ratings, Veeam offer three types of categories for their content, confidential, time-restricted, and publicly sharable.
Whilst everything that was confidentially communicated to me will remain that way, I can tell you about some of the time-restricted content, this normally is delivered via pre-briefings prior to events. For example, Veeam delivered a session announcing the content that would be revealed at VeeamON Update, and allowed the Veeam Legends to have a Q&A around the announcements, it provides a great test flight for Veeam on the new content, and delivers Veeam announcements and information to those interested first.
Perk: Private Betas & Not-For-Resale (NFR) Licenses
Ever wanted to test and provide insights to new Veeam features? Or maybe you've wanted to use some Veeam products but haven't got the money to buy licenses for your own personal lab environments. Veeam provide NFR licenses for your own private use (available on request) and occassionally seek beta testing and feedback from the community, it's always good to play with new tech!
Bonus: The Best Damn Community Leaders You Could Wish For
I could ramble on here for ages about all the awesome things that @Kseniya  & @Rick Vanover  do for the community and the Veeam Legends in particular, but it would do a disservice. All I can tell you, is they're awesome, and you'll have to have the pleasure of dealing with them first hand to find out how cool they really are.
What I can show you however, is the fun that this little sub-community has.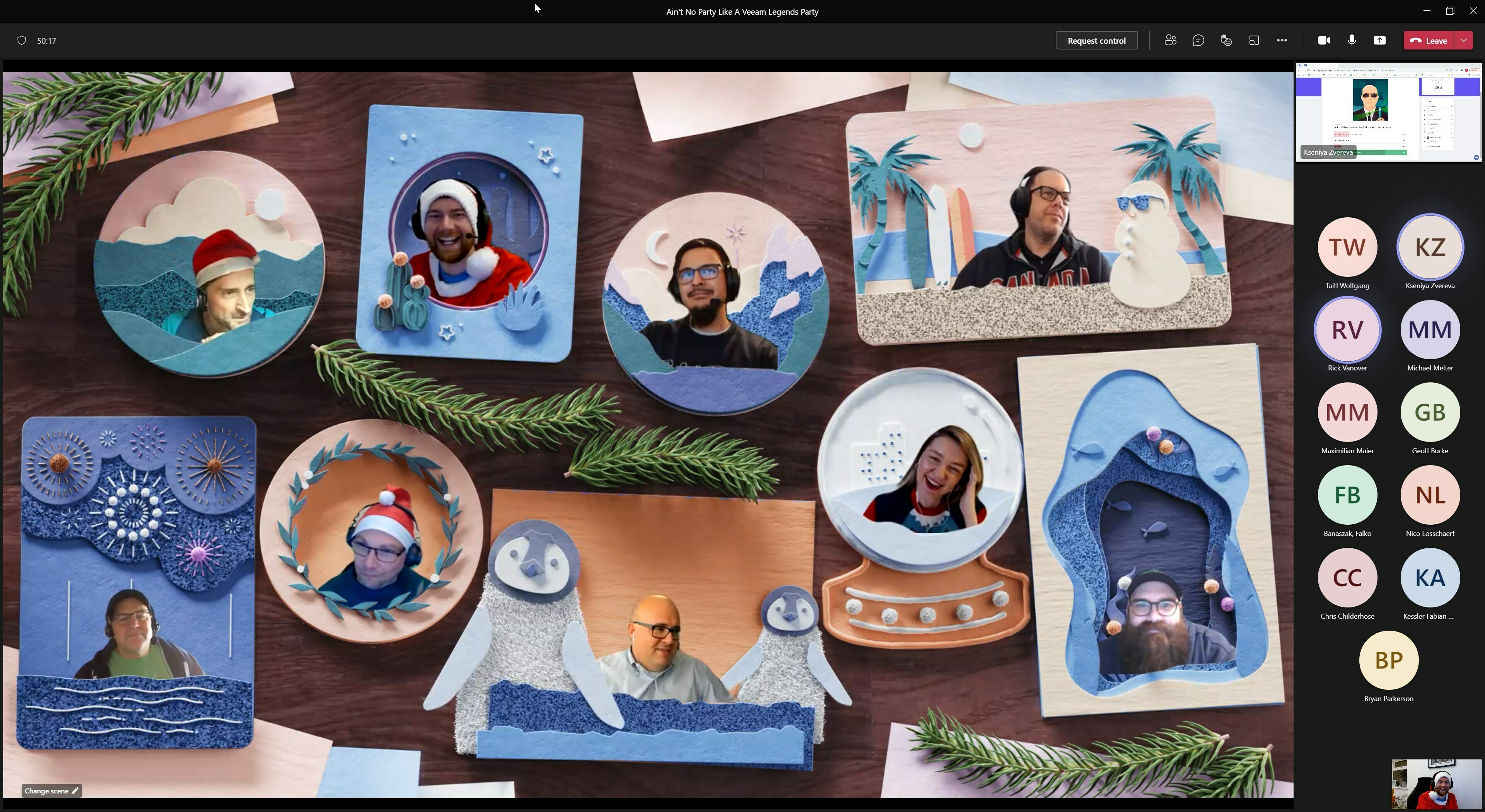 Conclusion
So there you have it, the Veeam Legends program has it all, amazing perks, a legendary (I tried so hard not to say it up until this point) leadership team, countless fun times and a fantastic collection of some of the most brilliant peers I've ever had the good fortune to meet.
Would I recommend being a Veeam Legend to anyone? Yes.
Do I want to renew my Veeam Legend status? Hells to the yes.
Try it, you won't regret it.