The Veeam Backup for AWS, Azure, and GCP products supplies an effortless way to protect workloads running in one of the hyperscale public clouds. Workload protection is done by taking native snapshots and copying snapshots to object storage for a defined period. A full instance recovery and file-level recoveries can be performed from the backup. 
But this only scratches the surface of what Veeam can do with a cloud-based backup. 
To use advanced storage functions like Instant VM recovery directly to an on-premises hypervisor, full instance recovery into another hyperscale cloud, or copying backup files to an on-premises harden repository will require Veeam Backup and Replication to be integrated with Veeam Backup for AWS, Azure, and GCP through what's called an "external repository". 
The Veeam Backup and Replication external repository is a read-only connection to the Veeam Backup for AWS, Azure, and GCP object-based storage repository. It allows Veeam Backup and Replication to perform advanced storage functions on the objects in an object repository. 
The Veeam External Repository 
Here is an example of the architecture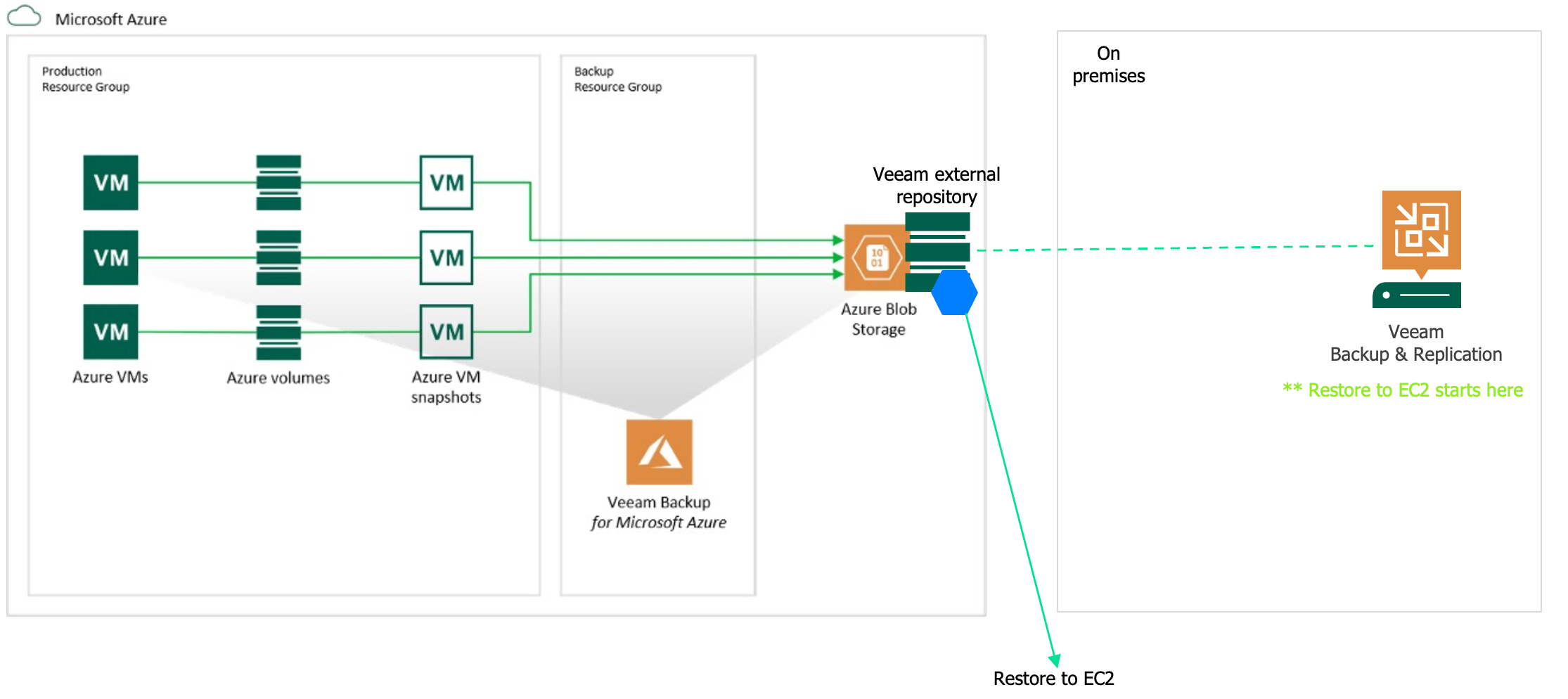 In this example, Veeam Backup for Azure is deployed in a backup resource group. It has deployed worker instances to backup instances in the production resource group, sending backup files to Azure Blob object storage. Veeam backup and replication is deployed on-premises and has a logical connection to the Azure Blob object storage repository. 
 Although this diagram covers Veeam Backup for Azure, this architecture diagram can be applied to Veeam Backup for AWS and GCP.
To attach the external repository to the hyperscale object storage, follow these steps:
Go to the Backup infrastructure section. Click on the external repository. Right-click and select Connect to.

Select the cloud backup product that you would like to connect. In this example, I am going to choose Veeam Backup for AWS.
As a reminder, you will need to enter your cloud private/public/secret/access keys to be able to connect to the object storage buckets.
Using the Veeam External Repository
You will see your external repository node on the home page when you have connected properly. The node will show the Veeam Backup for AWS, Azure, and GCP policy, the instances protected by the policy, and the number of restore points in the object repository.
If you right-click on an instance, you will see all the advanced recovery functions available.

This capability makes it easy for Veeam to recover cross-cloud and bring backups back on-premises to a Veeam hardened repository if needed.  
To perform a second copy (for example, a backup copy to a Veeam hardened repository), go to the home tab on the ribbon bar and click on the Backup copy button. Select the name of the proper hyperscale backup product and follow the wizard.   
In this short post, we introduced the concept of External Repositories as a convenient way to extend the functionality of the Veeam Backup for Cloud products. This great, built-in feature unlocks cross-cloud recoveries, flexible recoveries back to an on-premises datacenter and the ability to backup-copy your cloud backups to anywhere.