Probably the following is widely known. But I did not know up to now and found out today. Maybe it is new for others too.
After the Upgrade to v10, suddenly Linux VMs are not getting backed up any more, because defined guest interaction user was domain-based and could therefore not login into Linux VM. So solution would simply be to disable guest processing for this VM. Problem was, VMs were selected by vSphere Tags for this job. Fortunately solution is quite simple:
Edit the job and got to Guest Processing and  click Application

Here you can see the selected vSphere Tag. When you edit this line, options are set for all VMs this Tag was assigned to.

Press Add → VMs and Tags → expand Tag of choice → select exception VM
 

Select new line and press Edit

Set option as desired for this/these VM(s)
That's it! This also works for custom Guest OS Credentials: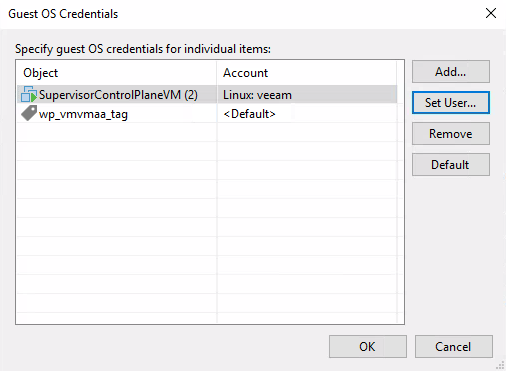 BTW: If you suffer from the same behavior after upgrading to v10 (and probably to v11 as well): Curiously this is not a bug, it is a bugfix. Read in the forum more about this:
https://forums.veeam.com/veeam-backup-replication-f2/veeam-b-p-v10-problem-with-linux-backup-t64978.html#p361284.
You should also enable Guest quiescence in advanced settings this case.