This week @Madi.Cristil and @Rick Vanover get through the recap without "technically" breaking the rules. There was a very busy special department set of news as well! Watch our recap below:
The links:
Special Department News:
Who's New +82!
A big welcome to the 82 new members in the Veeam Community Hub this week! Coolest new username award goes to @zerodefekt!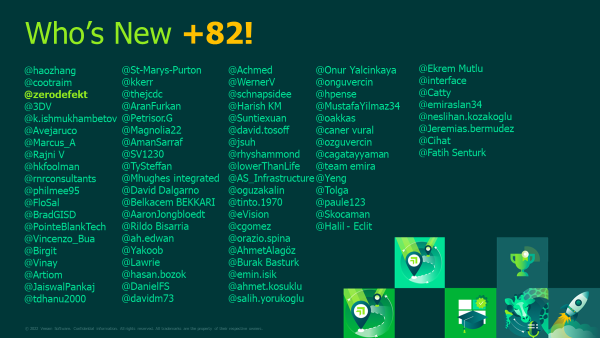 Welcome all new members!
@haozhang @cootraim @zerodefekt @3DV @k.ishmukhambetov @Avejaruco @Marcus_A @Rajni V 
@hkfoolman @rnrconsultants @philmee95 @FloSal @BradGISD @PointeBlankTech @Vincenzo_Bua 
@Birgit @Vinay @Artiom @JaiswalPankaj @tdhanu2000 @St-Marys-Purton @kkerr @thejcdc @AranFurkan 
@Petrisor.G @Magnolia22 @AmanSarraf @SV1230 @TySteffan @Mhughes integrated @David Dalgarno 
@Belkacem BEKKARI @AaronJongbloedt @Rildo Bisarria @ah.edwan @Yakoob @Lawrie @hasan.bozok @DanielFS @davidm73 @Achmed @WernerV @schnapsidee @Harish KM @Suntiexuan @david.tosoff 
@jsuh @rhyshammond @lowerThanLife @AS_Infrastructure @oguzakalin @tinto.1970 @eVision 
@cgomez @orazio.spina @AhmetAlagöz @Burak Basturk @emin.isik @ahmet.kosuklu @salih.yorukoglu 
@Onur Yalcinkaya @onguvercin @hpense @MustafaYilmaz34 @oakkas @caner vural @ozguvercin 
@cagatayyaman @team emira @Yeng @Tolga @paule123 @Skocaman @Halil - Eclit @Ekrem Mutlu 
@interface @Catty @emiraslan34 @neslihan.kozakoglu @Jeremias.bermudez @Cihat @Fatih Senturk