It's that time of the year again, we are close to the end of 2022 and things are getting festive. People bring out their Christmas trees, decorate their houses and have quality time with their families. This year the Automation Desk is adding to that festive feeling by organizing an event. The December Chocolatey Month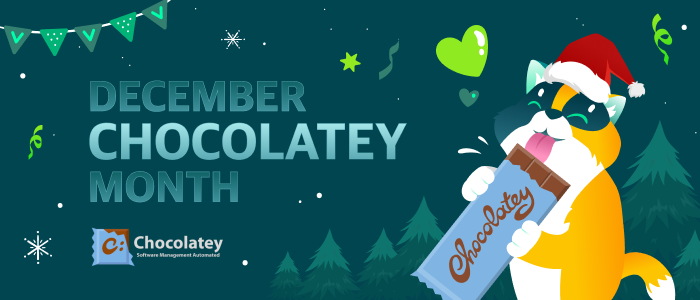 During this month we will be having a contest, we're going to submit questions inside the Automation Desk group. These questions will be submitted on Monday-Friday, with an exception for December 26th, which is the second day of Christmas in The Netherlands. The first question will be submitted on December 1st.
We will also host a webinar. @gep13 and @pauby (both working for Chocolatey Software, Inc) and I (@mkevenaar) will give an introduction into Chocolatey. An AMA (Ask Me Anything) will be available afterwards. This is on December 13th 6PM CET. Click here for more info and how to sign up.
Rules:
The questions will be within the subject of Chocolatey and Veeam and will be multiple choice
Participating in a question will give you 1 point. Giving the correct answer(s) will give you 1 additional point per correct answer.
You'll have 24 hours after the question is posted to submit your answer. Answers should be submitted as a spoiler. Submissions after the 24 hour mark will be ignored and no points will be rewarded.
There will be a weekly leaderboard posted on Monday December 5th, 12th, 19th and Tuesday 27th. 
Winners will be announced in the week of January 2th in a blogpost and during the Community Recap.
Winners are required to be a member of the Automation Desk group.
Winners are required to share an address and phone number for shipping the prizes. This information will be shared with Chocolatey Software, Inc and Veeam Software.
In the case multiple members have the same amount of points, a shoot-out in form of open questions will be submitted. The user with the answer closest to the correct answer wins; submissions from other users then the members mentioned in the shoot-out will be deleted.
There will be prizes for the winners. They will be announced later.
Employees working for Veeam, Chocolatey Software, Inc or Veeam Automation Desk Leaders will not be rewarded points. They can participate in the questions to gain knowledge.
Veeam Automation Desk leaders have final say in case of a conflict.
Rules are subject to change without notice.