@wolff.mateus asked what Brazil community thinks about latest Gartner Report for Magic Quadrant for Enterprise Backup and Recovery Software Solutions. I think this is interesting globally as well!
According to Gartner, Veeam is about 1 cm (or inch, if you prefer) behind the leader in Vision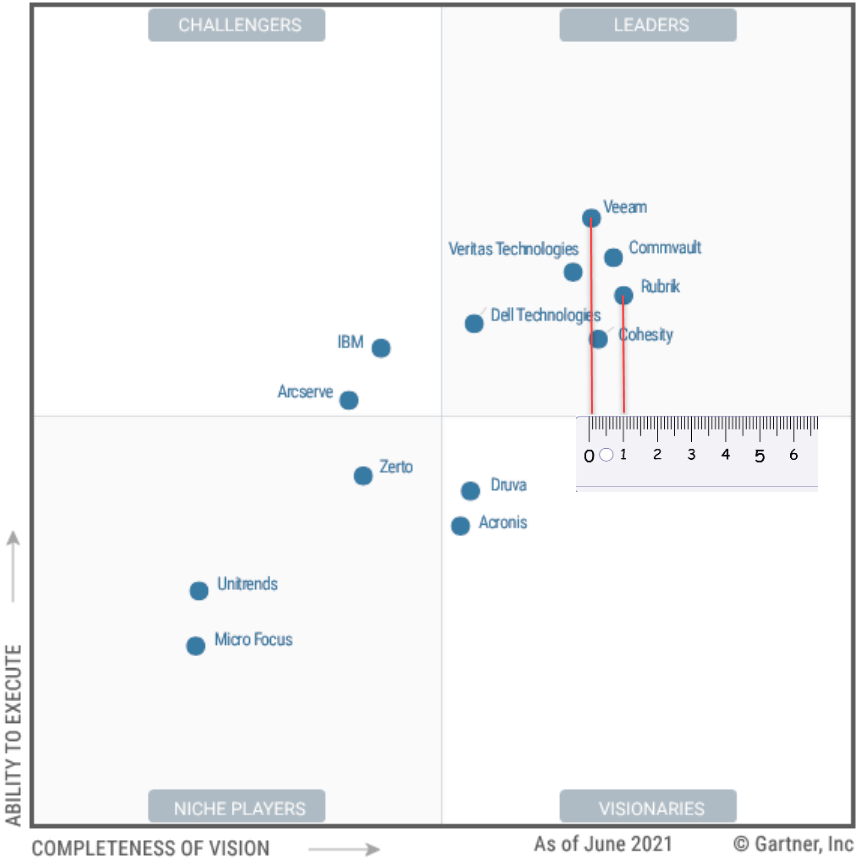 Honestly I have no deep knowledge about other competitors. So I looked at Veeam's Strengths and Cautions. 
Strengths:
Instant recovery
True! More and more workloads are adding to this feature. Like Database and NAS in v11.
Cloud cost transparency
Yes, with Build-in cost estimation. Like for Veeam Backup for AWS 3.0
Technical support
Customers are very satisfied with support. I personally too. What is not mentions is the satisfaction level of the software quality, which is also extremely high.
Cautions:
Deployment complexity
In large-scale environments, this can happen. Veeam roles can be distributed over a lot of Windows/Linux servers which can be physical or virtual. Veeam does a good job in distributing job/tasks automatically. But these server has to be maintained as well.
Data reduction
True, but this also includes a huge advantage as well! Because there is no global deduplication, files of a backup chains can be used for restore without any deduplication-DB, VBR installation or other complex tasks. 
Automated tiering for cloud-native backup
This is available with ScaleOut Backup Repositories. Is it not supported for AWS and Azure VM backup?