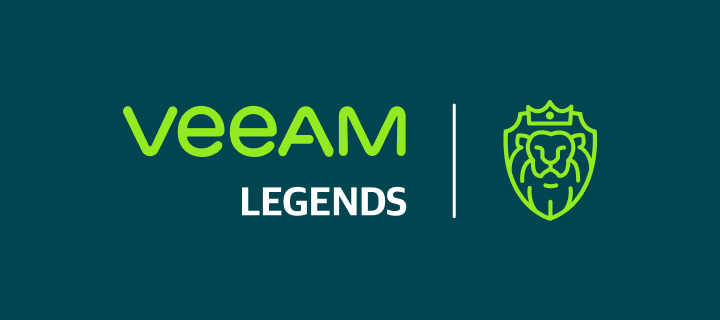 It gives us great pleasure to announce the Legends class for the first half of 2023, as the Veeam Legends program, which follows a 6-month cycle for both intake and renewal, continues to provide recognition and opportunities to distinguished individuals in our community.
The Veeam Legends program, which is among the top initiatives of Veeam Community, acknowledges individuals who actively participate in the Veeam R&D Forums, the Veeam community, and other Veeam platforms. This program, along with the comparable Veeam Vanguard Program, plays an important role in empowering data protection industry specialists who possess a strong passion for technology and innovation, and are enthusiastic about advancing their career while also contributing to the community by sharing their insights and experiences.
Congratulations to the new and renewed legends for the first half of 2023! 
Albert Tedjadiputra  Albertwt (Veeam R&D Forums)
Alex Heylin @alexheylin 
Bertrand Castagnet @BertrandFR 
Bryan Parkerson @bp4JC 
Chris Childerhose @Chris.Childerhose 
Chris Eromosele @Iams3le 
Craig Dalrymple @Cragdoo NEW
Damien Commenge Matteu (Veeam R&D Forums)
Derek Loseke @dloseke 
Derek Mayberry @theviking84 
Dipen Kumar @dips 
Falko Banaszak @falkob 
Geoff Burke @Geoff Burke 
Hin Tang @HangTen416 NEW
Jochen Meixner @JMeixner 
Karsten Meja karsten123 (Veeam R&D Forums) NEW
Luca Porfiri @Link State 
Luis Freixas @HunterLAFR NEW
Marco Fabbri @marcofabbri 
Markus Kretzer mkretzer (Veeam R&D Forums)
Mateus Wolff @wolff.mateus 
Maurice Kevenaar @mkevenaar NEW
Maximilian Maier @regnor 
Michael Melter @Michael Melter 
Michael Paul @MicoolPaul 
Michael Zenker @mcz 
Nico Losschaert @Nico Losschaert 
Phillippe Dupuis @Stabz NEW
Ralf Gross pirx (Veeam R&D Forums)
Scott Patterson @Scott NEW
Shane Williford @coolsport00 
Wolfgang Taitl @vNote42 
Best, 
Veeam Community