While updating our VCSP stack with V11-RTM, I just stumble again onto this small but fine new feature to prioritize your primary backup jobs: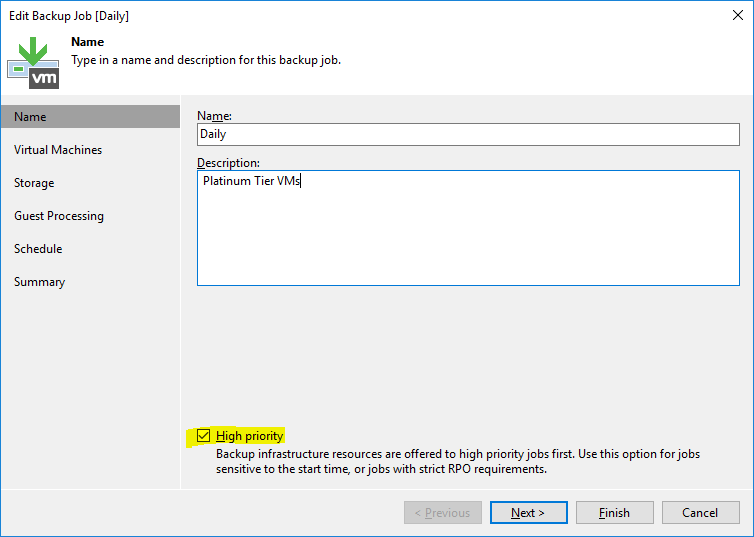 More than once I had customers request several jobs to be finished with priority.
You could of cause concatenate jobs with the schedule option "After this job:". But this is not recommended as it does not use the ressources of your backup system accordingly. Valuable proxy/repo slots would linger out-of-work for quite a while.
Overlapping jobs would lead to the second job jumping in with the first one still running, so saturating ressources. But this might easily oversteer and thus delay the first job.
With the new option this problem can be solved by just the click of a checkbox.
Prioritized jobs get a nice little flag in the job list.

So how does it work?
The Veeam scheduler runs all its tasks according to priorities:
800: Restore jobs — restores are obviously the most important jobs
700: Continuous data protection jobs — new CDP ist also considered very important
600: SnapshotDeleter jobs — no snapshot shall linger longer than needed
500: Quick backup jobs

400: High priority jobs

 — Option is available for backup jobs, replication jobs, agent jobs (managed by backup server) and file share backup jobs.

300: Regular backup and replication jobs
200: Backup copy jobs
100: Archive jobs
The higher the number, the more priority a task will be assigned. The new high priority option fits in just above the regular backup jobs and makes sure they are run with higher priority by the task scheduler. Quick backup jobs can still beat them though.