@vNote42 already teased earlier, that we will probably see something alike in V12:
https://community.veeam.com/blogs-and-podcasts-57/what-else-is-new-in-v12-vii-universal-surebackup-job-3073
With V11 already having brought us cross convertibility between agent backups and VM backups for Instant-Recovery, it was quite logical to have this next.
V12 ist in production now, so I couldn't wait to test this functionality! 😎
How to set up?
It's very easy and straightforward to setup. The only difference here is, that you have to pick your VM from an agent job into the application group for your SureBackup job: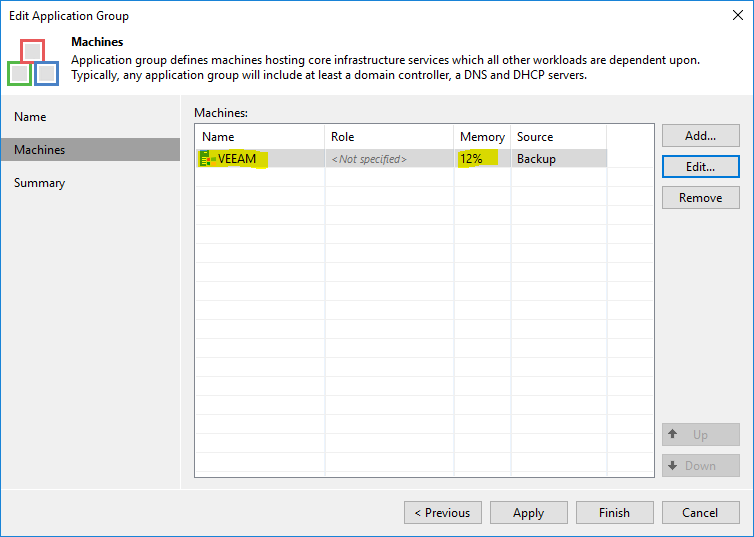 I used a small physical Veeam server of my demo environment as en example here.
Pay special attention to the reduction of your memory here. For VM->VM SureBackups this is often overlooked. But physical machines tend to have a lot more RAM that you might not want to allow them to be chopped off from your hypervisor during the testing.
While creating the application group, I noticed two more additions to the SureBackup process that might help a lot in certain situations:
One is, that Veeam Backup for O365 is now a role to be defined. So you might easily test your VBM server if necessary: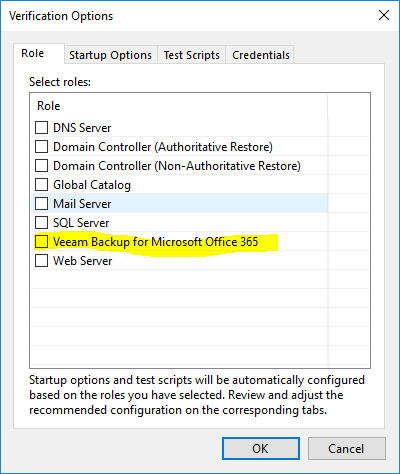 Another gem is, that we're now able to disable the Windows firewall of the system to be tested. As the system is being brought up in an isolated environment, Windows tends to put it into another network zone. This would prevent all test from being successful of course.
A tiny new checkbox does the magic here:
The rest of the SureBackup job for our agent backup is quite boring during its run: It just works.
Two special details we should take note of though:
The agent backup has to be converted to VM. Something we already know from recovering agent backups as VMs.
The heartbeat fails. I should have disabled the heartbeat check in my application group. The reason is quite obvious: we do not have VMware Tools inside our physical workload and this is exactly what the heartbeat test needs to be successful.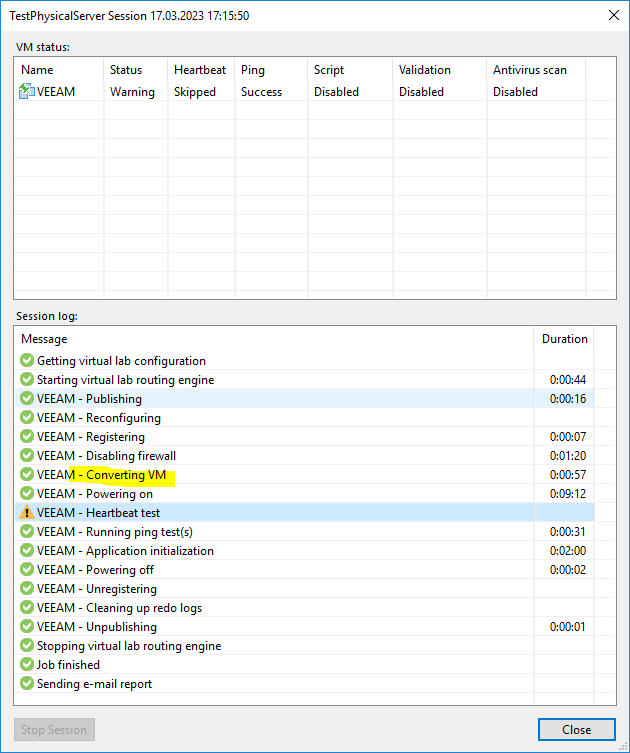 Summary
This new feature opens up all physical workload backups - and those VMs that are backup up as agent backups for specific reasons, such as failover clusters - to a SureBackup verification.
Something I was asked for quite often during consulting and training tasks as well.