I hope, this post safes you the time I spent to figure this out.
Normally I do not install Veeam Enterprise Manager (EM) unless there is a use case - like indexed file search. With it, EM can search a index - created at backup time. So no mount of restore-points is necessary to find files in backups. For more information see here:
https://helpcenter.veeam.com/docs/backup/em/understanding_search.html?ver=110
According to my knowledge, index search is able to lists all file-versions in selected time range. For this you have to filter your search: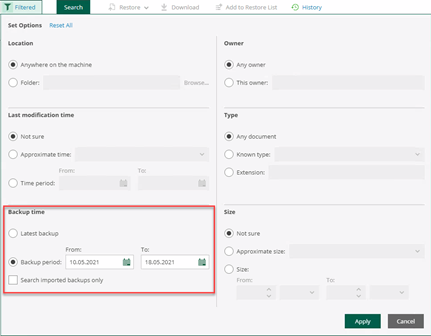 Problem
In multiple VBR v11 + EM environments I had the situation that index search results shows just latest file version in result. I spent some time to troubleshoot, ask colleagues, recherche. Finally I get an answer in R&D forum:
https://forums.veeam.com/veeam-backup-replication-f2/search-not-behaving-like-i-would-expect-t72642.html
Short answer
Indexed search should show all file versions.
This feature is broken in v11 and will be fixed.