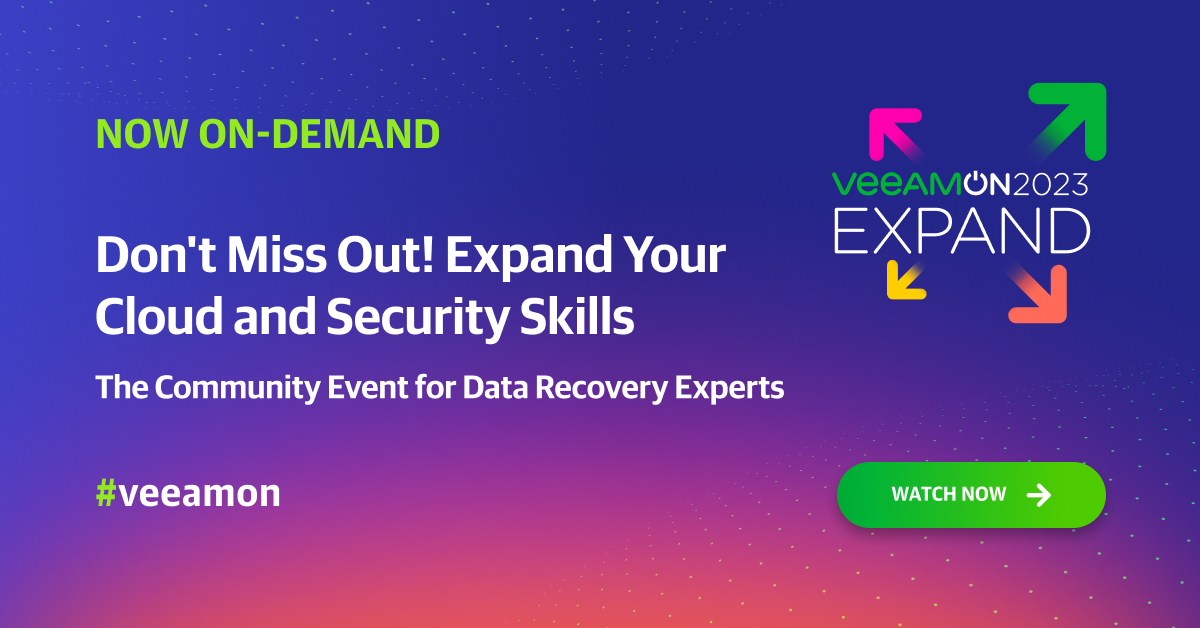 VeeamON 2023 was absolutely amazing! From bringing together our amazing community (YES ,you! ) , experts, partners, and our customers and share some great ideas to the famous venue in Miami and the awesome party! It was a one-of-a-kind experience!
We had a mind-blowing lineup of 156 sessions this year, both in person and online. And get this: over 23,000 people attended! But don't worry if you missed out or want to relive the magic. You can catch most of the sessions on-demand at www.veeamon.com. How cool is that?
But hey, we're not done yet! We're on a mission to help our customers protect their data, whether it's on-premises or in the cloud. We want to make sure your business keeps rocking no matter what. So, we've got some fresh content for you even after the event. Check out what's new with VeeamON on-demand:
Over 25+ new sessions, videos, and presentations  
Customer and partner guest presenters sharing their best practices and industry knowledge 
More deep dives on Ransomware and Hybrid Cloud solutions 
Live VeeamON Recap July 11th with Veeam's product strategy experts 
Topics that cover Microsoft 365, Salesforce, Kubernetes backup and more! 
We're super pumped to keep this journey going with you. We want to arm you with all the knowledge and resources you need to keep your data safe and help your organization be successful . So, head on over to www.veeamon.com and dive into the awesome on-demand content. Get ready for an incredible learning experience like no other!
Best, 
Madi