As you probably have already noticed:
VMware released vSphere 7.0 U2 recently
This is currently not supported by Veeam.
I want to share some important news for this new version that is relevant to backup. See this link for the complete list of core storage improvements:
https://blogs.vmware.com/virtualblocks/2021/03/09/vsphere-7-u2-core-storage
VMFS SESparse Snapshot Improvements
Read performance will be improved by redirecting reads to where data is located (chain or base-disk). Up to now, reads go through the whole snapshot chain and the base-disk. So when you read not-changed data, systems reads from base-disk directly, instead of checking snapshot chain as well.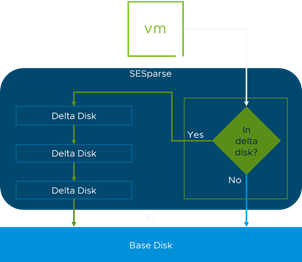 Performance Improvements on VMFS

Improved write performance on thin provisioned disks. This is about first writes. It should reduce the potential effects of first writes when using thin-provisioned disks.
NFS Improvements
I am not very experienced with NFS in vSphere, so this is the improvement:

With the release of vSphere 7.0 U2, we have enabled NFS array snapshots of full, non-cloned VMs to not use redo logs but instead, use the snapshot technology of the NFS array in order to provide better snapshot performance. The improvement here will remove the requirement/limitation of creating a clone and enables the first snapshot also to be offloaded to the array.
Sounds like vSphere creates array native snapshots, which sounds great!
VOMA Improvements
vSphere On-disk Metadata Analyzer (VOMA) supports now spanned VMFS volumes as well. I hope you do not use them at all!